AUTOMOTIVE PRODUCT SECURITY
Secure products across their entire lifecycle
Build a centralized product asset inventory and manage cyber risk throughout the entire lifecycle with an automotive cyber security platform purpose-built for OEMs and suppliers.
Automotive cybersecurity
and compliance:

a unique challenge
New vulnerabilities, new regulations, and a unique ecosystem that makes cybersecurity extremely challenging-- welcome to today's automotive cybersecurity reality. Add to that the EV, autonomous and Software Defined Vehicles revolutions, new SBOM requirements, and a need to support vehicles for 10+ years after launch and you get risks that carry serious functional safety implications.
The Product Security Platform
Your center for everything
automotive product security
Manage vulnerabilities in context
Detect, prioritize and mitigate relevant vulnerabilities, analyze specific frameworks such as AutoSAR and ECUs, and automate CSMS activities.
Learn More
Speed up incident response
Understand exactly which products are affected by a new vulnerability, and conduct detailed investigations, accelerating post production automotive cybersecurity.
Automate requirement validation
Use pre-mapped requirements of automotive regulations such as ISO 21434, WP.29 and EU CRA, to automatically identify compliance gaps and produce detailed reports.
Discover the platform
Cybellum's services and platform have helped us produce a comprehensive CSMS
Sungho Hwang

|


Cybersecurity Analyst Team Leader
Cybellum allows the Alliance brands to calculate the risk of a vulnerability in the full vehicle context
Eldad Raziel

|


Head of Cyber Security
Cybellum reduced our mean-time-to-detection by 80%
Chris Dikman

|


Global Chief of Cyber Security
Cybellum's platform allows the team to detect and mitigate risks early and often
Supermicro's software security team
Automotive cybersecurity

made simple
Manage all software assets and risks
Maintain a detailed software asset inventory to quickly identify the most critical issues across all your products and teams.
Stay compliant, for good
Keep all products and components compliant with automotive regulations, standards and best practices such as ISO 21434, WP.29 and the EU CRA.
Stay secure across the entire lifecycle
Detect and mitigate vulnerabilities from design to post-production, manage SBOMs and assets, facilitate incident response, and analyze zero-days all from one place.
The technology that makes it all possible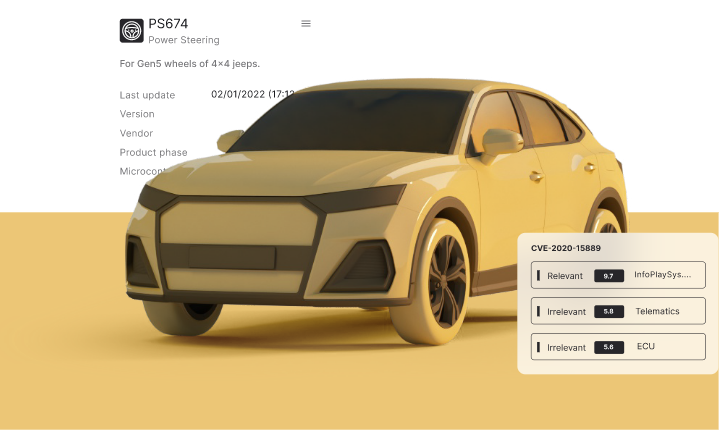 Cyber Digital Twins™ technology creates exact digital replicas of your device's software, allowing you to analyze, detect, and manage automotive cyber security risks in incredible detail, from a single component through a full product system.
Learn how it works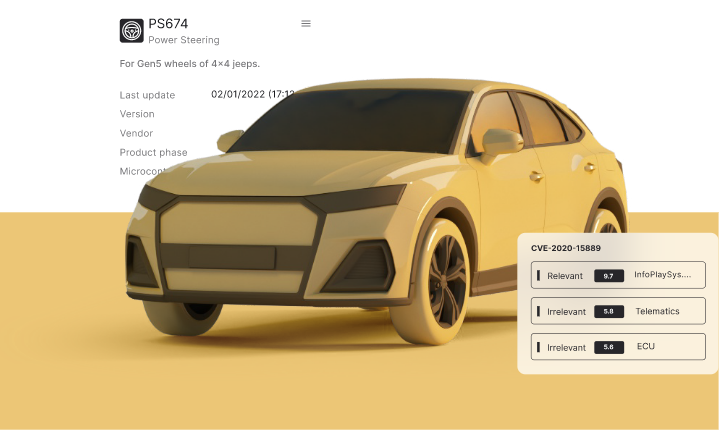 More automotive cyber security resources
View more