LG Electronics (LG) today held its first-ever press conference at IAA MOBILITY, one of the world's largest annual mobility sector events. Speaking on the Main Stage (Hall A1) of the Messe München exhibition center, LG CEO William Cho shared the company's perspective on the future of the mobility industry and presented its vision for driving important changes across the entire mobility ecosystem – a goal referenced by LG's press conference theme: "Taking Life's Good on the Road." Cybellum's CMO David Leichner was on hand as Mr. Cho introduced its unique and inspiring vision for the future mobility customer experience.
Mr. Cho announced that LG is redefining the car as a "personalized digital cave" and has developed three customer experience themes – Transformable, Explorable, and Relaxable – to help it realize its future mobility vision. Collectively, the themes are known as Alpha-able, the company's interpretation of making anything possible. The three experience themes that make up 'Alpha-able' are the pillars of LG's future mobility customer experience. Setting LG apart from its competitors, the experiences aligned under each theme will be realized through the company's innovative customer-centric technologies, services and content.
Mr. Cho also discussed how the mobility industry is currently accelerating toward the era of the software-defined vehicle (SDV). Highly sophisticated electronic devices, SDVs will present new customer experiences in supremely adaptable moving spaces that go far beyond anything that exists now. In preparation for this fast-approaching era, LG is developing customer-specific designs to facilitate differentiated customer experiences in the future mobility environment.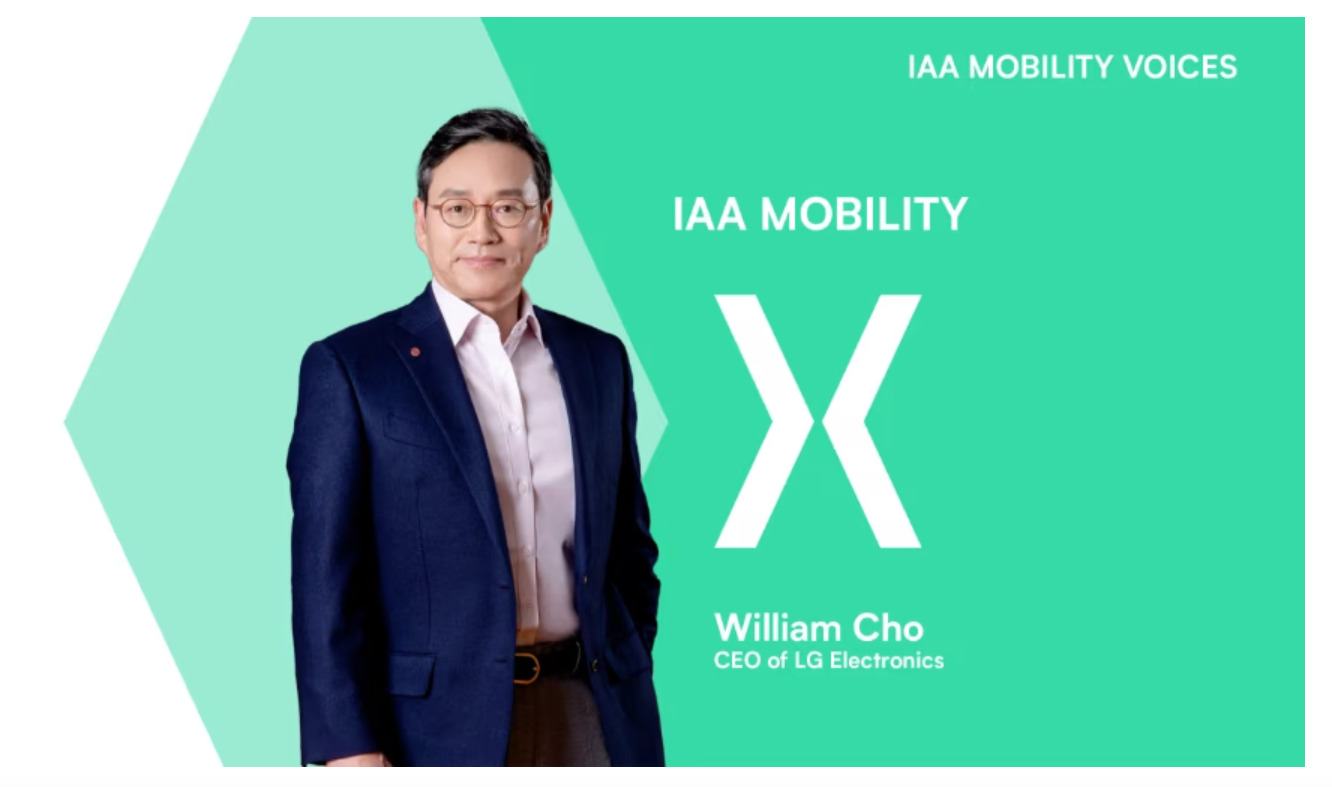 William Cho, CEO of LG Electronics
In fact, in a recent pre-IAA interview, CEO William Cho noted that, in the rapidly evolving landscape of automotive technology, cars are no longer just modes of transportation; they are becoming integrated extensions of the consumer electronics environment. LG Electronics aims to redefine the in-vehicle experience by seamlessly connecting and expanding mobility experiences in various aspects of users' lives. This vision, labeled "Experience Connected Mobility," encompasses advanced in-vehicle infotainment and connected mobility services, transforming vehicles into hubs of seamless experiences through Software Defined Vehicle (SDV) technologies. LG's commitment extends not only to enhancing in-vehicle experiences but also to the broader mobility ecosystem.
In this interview, Mr. Cho also shed light on an essential but often overlooked topic in the automotive industry: vehicle cybersecurity. As vehicles become more connected and reliant on various software solutions, safeguarding against unauthorized access and hacking is critical. Neglecting this aspect poses risks not only to data but also to human safety. To address this concern, LG Electronics adheres to global industry standards and has obtained international certifications. Furthermore, the company leverages the expertise of Cybellum, a leading cybersecurity firm, to enhance vehicle cybersecurity and protect personal information.
In the era of smart driving, vehicle cybersecurity will play a crucial role. With the increasingly connected network with various software solutions in the vehicles, it's essential to establish robust systems that prevent unauthorized access or hacking. Neglecting this aspect exposes the vehicle and its linked personal information to cybersecurity threats, posing risks not just to data but also to human safety. We take vehicle cybersecurity seriously and adhere to global industry standards, obtaining international certifications, leveraging Cybellum's expertise in cybersecurity.

LG Electronics CEO William Cho
According to Mr. Cho, LG Electronics envisions a world where seamless connectivity extends from homes and workplaces to vehicles, enhancing user experiences at every touchpoint. With its deep expertise in consumer electronics and a commitment to cybersecurity through partnerships like Cybellum, LG is poised to shape the future of mobility, delivering innovative solutions that cater to evolving consumer needs.
Read the original interview with Mr. Cho here
And learn about how Cybellum helped LG VS become the first Tier 1 to receive a CSMS certification here.